When Your Brigantine Fast Food Restaurant Has A Mold Damage Issue, Let Our Experts Help!
7/29/2019 (Permalink)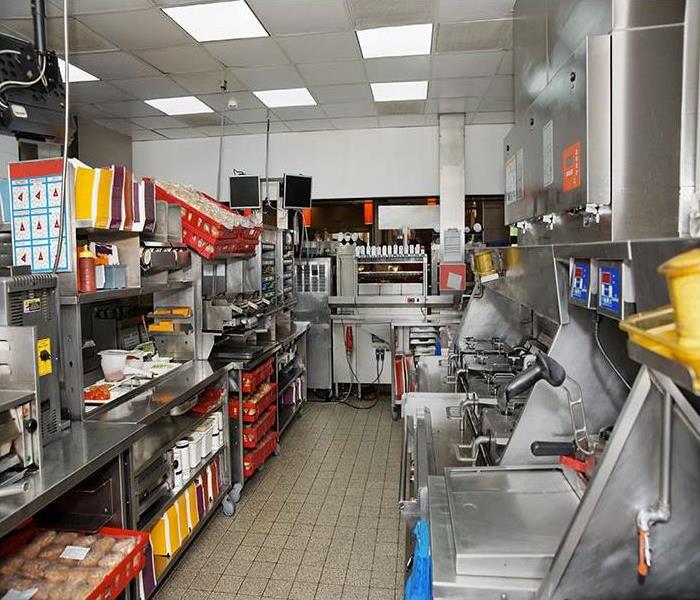 Whenever mold gets discovered, you can count on our SERVPRO of Atlantic City / Hamilton / Hammonton to help.
Contending With Mold Damage In Brigantine Fast Food Restaurants
While you might have already contended with another variety of mold when an unobservant employee in your Brigantine restaurant neglected to utilize older buns and bread products, commercial mold growth that develops harmful colonies can be much more threatening to your business model. The facilitation of structural mold presents a health risk for your employees and your customers, and without the appropriate containment protocols taken immediately, you can find yourself unable to keep your doors open once the health department and EPA get involved.

Knowing how to identify mold damage in your Brigantine restaurant is critical to ensuring that the right precautionary measures happen right away. Our SERVPRO professionals have a 24/7 response to these emergencies, arriving with multiple Applied Microbial Remediation Technicians (AMRT) endorsed by both the Institute of Inspection Cleaning and Restoration Certification (IICRC) and the National Organization of Remediators and Mold Inspectors (NORMI.) This experience in light of a damaging situation is precisely what your restaurant needs to keep its doors open.

Our SERVPRO team has containment equipment, materials, and protocols that can entirely quarantine affected areas of your restaurant. While there are no guarantees that the damage is not too widespread before our team arrives to prevent the continued running of the location until remediation completes, our technicians understand how costly shutting your doors can be and do whatever we can to prevent this.

The remediators can utilize specialized equipment like soda blasting to help clean damaged surfaces and to remove mold colonization from walls in the kitchen area of the restaurant without damaging the substrate. With many of these walls constructed of either hard plastic sheeting and plywood, metal, or conventional sheetrock, having a system that is not destructive to the hosting material is vital to getting your business up and running again quickly.

We have established relationships with testing facilities to offer post-remediation safety analysis for your restaurant to sate the interests of the health department and the parental company. Whenever mold gets discovered, you can count on our SERVPRO of Atlantic City / Hamilton / Hammonton to help. Give our professionals a call anytime at (609) 965-0885.
For more about Brigantine click here.