How SERVPRO Handles Atlantic City Storm, Water, Fire, and Mold Damage Emergencies
10/6/2019 (Permalink)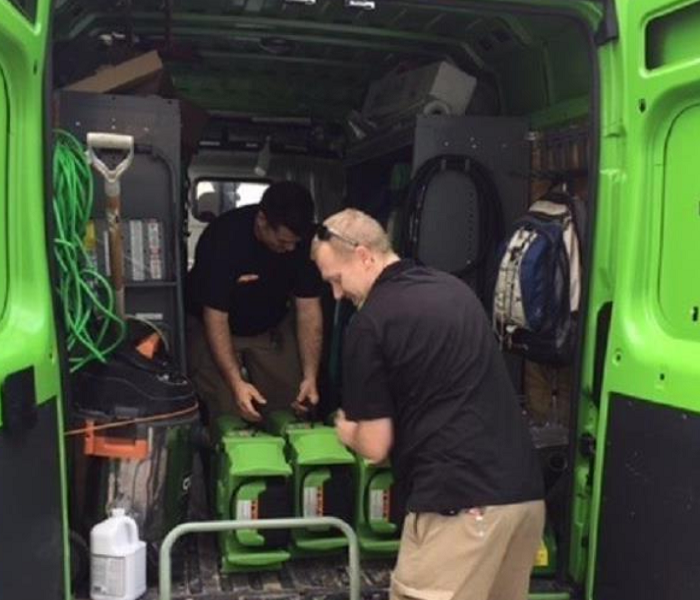 No matter your restoration emergency, SERVPRO has the equipment and experience needed to remediate the damage.
Fire, Storm, Water, or Mold Damage in Atlantic City? SERVPRO has you Covered
Between our management and even many of our loyal field technicians, we have more than 100 years of combined restoration experience to offer. Because we can offer a full-service approach to recovery and restoration, we can complete jobs more quickly than our customers might expect, while saving their money in the process. We have been serving the Greater Atlantic City area since 2004, which has allowed us to become a trusted staple of the community, offering reliable restoration services whenever disasters strike. In a city that often relies on good fortunes, luck is not always in everyone's favor when it comes to loss incidents.
Storm Damage Restoration
We have become a very trusted name in storm relief after the hundreds of homes and businesses that we helped after the destruction of Super Storm Sandy and Hurricane Irene. With the Jersey Shore and other coastal communities housed within our service area, we have an obligation to more than just Atlantic City structures when robust weather systems make landfall. Sandy passed through in 2012, and our team worked tirelessly on mitigation and emergency construction to prevent flooding and further exposure of structural elements.
Part of our success in storm relief rests on the shoulders of our competent construction professionals. We have a team of licensed (General Contractor License #: HIC #13VH05086500) professionals that can address the many concerns that exist immediately following traumatic storm damages. Atlantic City homes and businesses are often susceptible to significant loss after a single breach in the structure's exterior, such as a failing roof or broken window. Our professionals can help with emergency board up and tarping services.
Flooding is a common scenario that accompanies storm damage in Atlantic City homes. Our SERVPRO team has all of the equipment and experience necessary to address flooding concerns as they occur, including high-capacity extraction equipment and trucks, as well as rapid drying solutions designed to be as minimally invasive as possible.
Water Damage Restoration
Considering that nearly all of our technicians have accreditations through the Insitute of Inspection, Cleaning and Restoration Certification (IICRC) as Water Restoration Technicians (WRT), it is safe to assume that a vast majority of the more than a century of experience with our SERVPRO team is in this niche. Water damage in Atlantic City homes might happen in multiple ways, but it is the same industry-leading equipment and trained professionals every time to make the situation better.
We have a knack for structural drying, and that helps us to provide sufficient moisture removal in damaged structural elements and construction materials without requiring removal and replacement. Keeping materials installed in your Atlantic City residence helps us save time and money for you. We even utilize exclusive software of our brand known as DryBook that can help to keep all parties informed about the drying progress and estimated completion.
As we are part of a large loss service team, we can improve the efficiency of even substantial losses with our deep availability of personnel, recovery equipment, and cleaning products available as needed. In Atlantic City alone, this same conglomeration of our resources has helped us to tackle massive structural losses spanning more than 500,000 square feet.
Fire Damage Restoration
There is no single correct method of recovery and restoration for fire damaged Atlantic City homes and businesses. Our SERVPRO professionals perform a thorough assessment and inspection when we first arrive at the damaged address, which allows us to determine the best approach to restore the property. This inspection determines the tools necessary to complete these tasks, and what volume of our experienced staff must help in this process to achieve maximum efficiency.
With so many layers of effects to address when a fire first gets extinguished, it can be refreshing for an experienced team like ours to take the reins. We know what your property needs and how to achieve that result. We can work quickly to begin efforts like debris removal and fire cleanup, which can work to protect many of the installed elements and construction materials throughout your Atlantic City residence. During mitigation, we also have multiple approaches for damaging situations like soot and smoke residue that can adhere to surfaces and contents.
Content management is one of the strong suits of our entire team, and we work immediately to protect any exposed materials and belongings from detrimental effects. We can work to recover some of your possessions on-site with our premier cleaning products and equipment. Still, many of these same items must get relocated to our nearby facility for focused cleaning, deodorization, and storage.
Mold Remediation
While our SERVPRO team might specialize in content management for fire losses, we also have that same experienced team of cleaning technicians available for the restoration and cleaning of mold-damaged belongings in your Atlantic City property. We know the damage that mold can do to organic materials, documents, and other belongings throughout your home. Our professionals can remove these items from the hazardous zone of your household and store them safely at our climate-controlled facility until remediation completes.
Mold begins developing within 48 hours of a water loss incident, and you need professional strategies and experience to protect your Atlantic City home. Often homeowners do not notice the growth of this organism, which can allow it to spread and thrive out of sight until the signs of its presence are undeniable. If you suspect mold growth, our team can offer a full inspection complete with environmental testing if necessary.
Much like the other areas of our restoration services, our IICRC-Certified Applied Microbial Remediation Technicians get backed by the full-service team of general contractors. These competent professionals can help with controlled demolition, full-scale build back, and tasks like document drying and plumbing repair. With the combined efforts of our restoration professionals and our reconstruction team, we have a confident approach to make Atlantic City mold damage "Like it never even happened."
As challenging as choosing a restoration team might seem, you can always count on the experience and continued growth of our SERVPRO of Atlantic City / Hamilton / Hammonton team. As a local reputable restoration company, We're Faster To Any Size Disaster. Give us a call today at (609) 965-0885.
Read more about Atlantic City here.