We Help You Get Back In Business After A Fire
11/6/2019 (Permalink)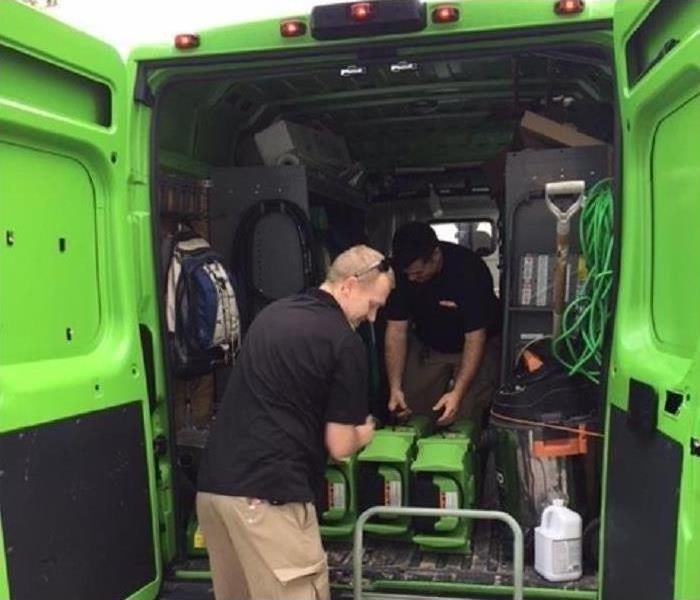 The crew loading up to help make it "Like it never even happened." We respond 24/7 to your fire damage emergency so don't hesitate and call us.
Restoration of Commercial Fire Damage in an Atlantic City Shopping Center Bathroom
Illicit smoking in the bathroom does not happen only in high school bathrooms. Your Atlantic City shopping center's patrons might also do the same on occasion. Any of the disposable receptacles in individual stalls or the waste bins near sinks might serve as an impromptu ashtray, possibly starting a fire shortly after the person leaves.
Situations like this inside the confined area inside a mall in or near Atlantic City cause more than commercial fire damage. The lack of combustible materials in a typical bathroom means such fires often remain short-lived, but the smoke can fill the area and also get pushed into the hallway. Much of this smoke comes from paper burning. Other items that end up in bathroom wastebaskets include plastic packaging, plastic bags, twist ties, other packaging fasteners, and other miscellaneous items.
This mixture of smoke types adheres easily to walls and ceilings, mirrors and stall partitions. SERVPRO technicians use highly effective to address all of these surfaces, making them clean and odor-free again. We use gentle but effective chemicals, like hydrogen peroxide, to remove soot and smoke residue from these surfaces. For smooth surfaces, we wipe the carbon deposits away with a specially manufactured sponge. These sponges do not require water or other liquids to perform quite well.
Different areas of the floor might end up scorched, as well. Whenever the fire damage affecting tile flooring happens to exclude any bubbling or warping, we merely clean the abrasive soot away. However, when tile needs repaired or replaced, our building services team, General Contractor License # HIC #13VH05086500, steps in to perform the necessary work. All of our crews work together, making the experience much faster and less stressful for everyone affected by the smoke and fire damage.
Many of your mall's patrons, as well as store employees, find smoke odors very bothersome. Shops near the affected bathroom might see a drop in sales because of patrons avoiding the area entirely. More sensitive employees might opt to use sick days, adding to the problems experienced by shops in that area of the mall. We also perform deodorization services that target the molecules responsible for causing noxious scents.
SERVPRO of Atlantic City / Hamilton / Hammonton uses teamwork and targeted methods to effectively rid your mall in or near Brigantine, Galloway, and Absecon of smoke residues, charring, and malodor related to fire damage. Our services are always available, day and night, year-round by calling (609) 965-0885.
See more about Atlantic City.