What Does Fire Damage Restoration Involve?
8/17/2020 (Permalink)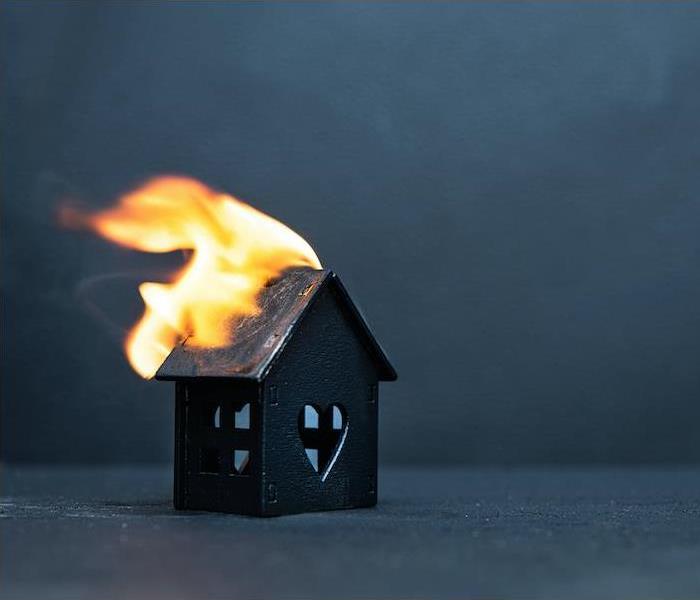 You can contact our professionals 24/7. Our fire damage experts are trained in fire & smoke restoration, odor control, upholstery and fabric cleaning.
Atlantic City Remediation Services Generally Restore Fire-Damaged Homes by Removing Soot Residues, Deodorizing Interiors, and Replacing Things Beyond Repair.
The damage a fire does to your Atlantic City home involves much more than burned structural elements and furnishings. A large part of the harm a house fire does results from the soot residues and odors produced by the burning, or combustion, process. In this process, heat converts solid materials into gases but, since the reaction is almost always inefficient, it leaves behind waste products in the form of harmful residues and airborne particles. These waste products include:
Corrosive residues that could discolor and further damage any surfaces they are deposited on
Polycyclic aromatic hydrocarbons, which often smell like asphalt or car tires that could be detrimental to your health if breathed in
Other persistent odorous airborne particles
If not cleaned up quickly and correctly, these residential fire leftovers can further harm your property. Moreover, they might also negatively impact your health.
How Do Local Fire Damage Restoration Companies Like SERVPRO Handle Soot Residues?
One of the most troublesome issues faced by Atlantic City fire damage restoration services following a fire is cleaning up soot residues. These wastes are the solid remnants of burned materials, and they are left where something burns or are deposited around your home by smoke. Since smoke can travel almost anywhere, even into the most difficult-to-access parts of your house, they can be quite challenging to find and remove. If not found and cleaned up swiftly, these often acidic deposits can corrode metallic surfaces and change the color of any materials they land on. In order to effectively deal with residues and prevent these problems, SERVPRO technicians employ the following methods and gear:
Eliminating difficult to remove charred on smoke residues with wire brushes, scraping techniques, or abrasive blasting
Using the peroxide active cleaning method to remove thick residues from delicate surfaces and materials
Wiping away non-grease residues around your home with dry-cleaning sponges
Whatever residues your residence has, we usually have the right tools and techniques to safely remove them.
What Methods Does SERVPRO Use to Resolve Airborne Issues Like Residual Smoke and Persistent Odors?
After a fire, your house may still have residual smoke and the airborne particles that go along with it. It also likely suffers from persistent foul, fire-related smells. These result from the odorous particles and compounds produced by the fire found in both smoke particles and deposited residues. In order to rid your residence of airborne issues like residual smoke and unpleasant odors, SERVPRO:
Ventilates your house with high-velocity box fans and advanced air movers to remove smoke and smells related to it
Uses air-filtering scrubbers to replace interior air, fouled by noxious gases and odorous particles, with cleaner exterior air
Neutralizes unwanted smells with Vaportek systems and Ozone machines
Cleans your HVAC ducts with specialized systems that prevent it from spreading damaging odorous particles around your home
Cleans impacted exterior areas of your home with pressure washers
Employs ultra-low volume and thermal foggers to deodorize affected surfaces and materials around your residence
Deodorizes upholstery and carpets with high-tech injection devices
These actions are often highly effective in returning your home to its pre-fire condition. After SERVPRO technicians have finished, homeowners are usually surprised to find that their residences no longer smell like smoke and seem to have never even experienced a fire.
How Do Air Movers, One of SERVPRO's Most Useful High-Tech Ventilation Tools, Work?
One of our most useful ventilation tools is air movers. Air movers are mechanical devices that are more effective than regular fans in higher pressure, post-fire environments. Their other key benefits are they often use less energy than other ventilation appliances and exchange air more rapidly because of their higher operating velocities. Unlike typical fans, air movers have a rotor instead of a propeller and, using centrifugal force, suck in and blow out fouled air rather than simply pushing it around. This has the ultimate effect of clearing smoky, particle-filled air from your home in a timelier manner.
Remember, the risk of fire is always present, no matter where you live. Considering this, it is exceedingly important that you anticipate potential fire events, take the proper precautions to avoid them whenever possible, equip your home with essential fire safety equipment like smoke detectors and fire extinguishers, have a planned escape route before a fire ever occurs, and know what your local options are if you ever need fire damage repaired. With that said, whatever you do, there is no way to entirely safeguard your home from fire damage. While this is not a comforting thought, it does indicate the importance of having good fire damage restoration services like SERVPRO in the local area.
So, if your home ever experiences a fire, contact SERVPRO of Atlantic City/Hamilton/Hammonton at (609) 965-0885 for help restoring its fire damage.