Atlantic City Property Owners Rely on SERVPRO for Fire Damage Restoration
2/15/2021 (Permalink)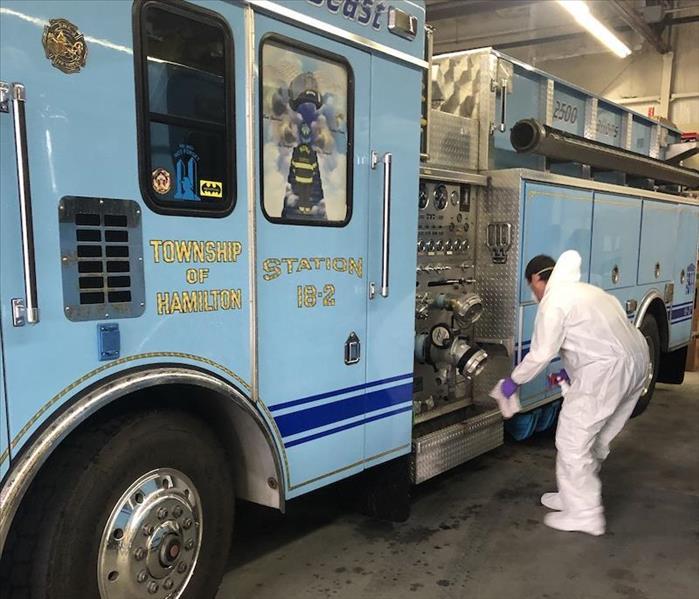 SERVPRO has expert technicians for any size fire damaged home. They are trained and certified fort he job.
Relax and enjoy Atlantic City's Entertainment, including Fireworks
Atlantic City is known worldwide for its iconic Boardwalk, casinos, and reputation. Every time someone plays the traditional U.S. version of Monopoly, they become better acquainted with the streets of "A.C.," generally considered prime real estate in New Jersey. Incorporated as a city in 1854, its first hotel was built a year earlier, ready for train service arrival. As early as 1874, nearly half a million people were visiting the city and enjoying its amenities.
Many attribute the success of Atlantic City to Dr. Jonathan Pitney, also known as "The Father of Atlantic City." Pitney's vision was to develop the area as a health destination to which railroad access was essential. As a result, the railroad was built with Samuel Richards' help, and the first Atlantic City boardwalk was built in 1870. Over time, the Boardwalk became longer and wider-reaching, about seven miles before it was destroyed by a hurricane in 1944. Water not fire damaged the Boardwalk.
The 20th century marked a period of growth for Atlantic City, where large hotels and homes were built. It is common knowledge that during the Prohibition, liquor and gambling continued to rise in A.C. while allowing racketeering and contraband to flourish. During this time, Nucky Johnson amassed power, mainly due to the kickbacks he received from the illicit activities in the city and the construction industry.
Even today, Atlantic City is known for its vibrant nightlife, but it also has suffered ups and downs. After World War II, crime and corruption became the norm, and the city's economy declined significantly. Many of the original grand structures were demolished and absorbed by hotel chains. In the 1970s, the legalization of gambling gave way to the Boardwalk's resurgence, even though poverty still prevailed, providing a stark contrast to the tourists flocking into the city.
Visitors and residents of New Jersey can visit Atlantic City year-round for a strong lineup of entertainment. Concerts and performances anchor your time in A.C. while restaurants and casinos provide hours of unparalleled experiences. Families are also welcome and can select activities on the Boardwalk and beyond. Some options for families include-
Atlantic City Aquarium
African American Heritage Museum of Southern NJ
Atlantic City Cruises
Beach and Ocean Activities
Whether you have a few hours or a full weekend, Atlantic City is like no other place in the world. Make a plan to visit as soon as you can.
Looking after Your Fire Damaged Atlantic City Home
As homeowners, we focus on our places' general upkeep by investing in landscaping, painting, and other repairs. However, every so often, an incident occurs that goes above and beyond what we can handle ourselves. For example, fire damage in a kitchen can escalate and allow soot to travel through the home and leave the smell of smoke lingering in the air.
SERVPRO answers the call for Soot and Smoke Cleanup
When a property needed fire damage restoration, call SERVPRO and allow us to provide our expert service to restore your home. Upon arrival, you should expect the following-
A full assessment of the fire damage and mitigation of cross-contamination
Water extraction and drying services with industry-grade equipment, if needed
Application of EPA-approved cleaning solutions tailored to each surface
Restored healthy IAQ indoor air quality using scrubbers and foggers
SERVPRO of Atlantic City/Hamilton/Hammonton is a phone call away. Call us at (609) 965-0885 and let our expert team remove the memories of fire damage and make your home feel "Like it never even happened."