SERVPRO Can Help with Mold Growth In Office Buildings!
7/26/2022 (Permalink)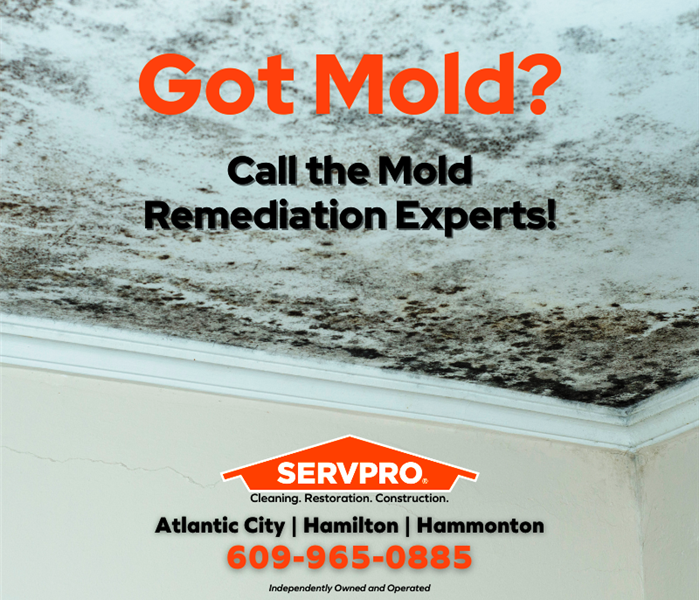 Mold is not always avoidable in Brigantine office buildings, but our SERVPRO expert remediators can help provide a safe environment for your staff and clients.
Mold inspections are among the chief strategies to determine the presence of microbial threats in your Brigantine office building and the viability of these conditions. Our competent project manager can walk through the work areas in the structure and thoroughly inspect construction materials and contents for dampness, water spots, and even visible colonization. We can code these findings with colored stickers and markers to direct our SERVPRO remediators, where work is necessary foremost in the building.

The mold inspection for your Brigantine office building should give you a clearer picture of fungus and mold colonies in the structure. If an infestation is greater than ten square feet, it is always advisable to leave remediation and the necessary restoration of the property to experienced professionals like our SERVPRO team. Visible mold, or areas where third party industrial hygienists have sampled the air and found mold threats, are spaces that can benefit from containment to prevent further spread.
What Are Some Long-Term Solutions to Prevent Recurring Mold?
There are multiple steps required to get your office into a safe and sanitary space again after microbial threats and their volatile organic compounds. Determining the cause of moisture and dampness that facilitates mold growth can direct our in-house contractors to long-term solutions to protect your building, contents, and the staff. Some of the options to regulate moisture concerns include:

• Dehumidification Equipment Installed
• Structural Repairs
• Encapsulation

Mold can often be an overlooked threat in office spaces until the situation gets out of control. When you suspect mold might be present in your business, let our competent SERVPRO of Atlantic City / Hamilton / Hammonton project manager help determine the next steps with you. Give us a call anytime at (609) 965-0885.